Losing "Patience" in the Market
Prior to the FOMC meeting this past week, news leaked that the Fed was likely going to drop the word "patience" from their statement. This set off a flurry of speculation, with the general consensus being that markets would react negatively. In fact, the day prior to the meeting, such consensus actually pushed the market down, and even further down right up until the statement was released at 2:00 pm EDT last Wednesday 3/18. The Dow dropped over 270 points from Monday's close of 17,977 to 17,706 right before the FOMC statement on Wednesday.
Yet, the consensus was wrong, and if you bought into it (the consensus, that is) by shorting, you got burned. Because right before the release of the FOMC statement, the Dow shot up, to close on Friday at 18,127, more than a 420 point rise. The "consensus" is just noise, and if you don't tune it out… Put another way, if you run with the crowd, you could easily get trampled. So, it begs the question, how do you tune out the noise, evade the crowd of the "consensus"? First, we're not espousing that the consensus or the crowd is always wrong. What we are espousing is that it should be ignored.
Bottom line, your trading system should not rely on what the consensus is, or what the crowd thinks might happen, nor be overly dependent on the news. Solid trading systems are based on technicals and price action, not crowd action. The distinction is subtle, yet makes all the difference. For example, the Stealth Traders exclusive HyperSnapback indicator on the ES (E-mini S&P 500) 120 Minute chart showed that a HyperSnapback Up was setting up on Wednesday morning, well before the FOMC statement. Click the picture to enlarge it.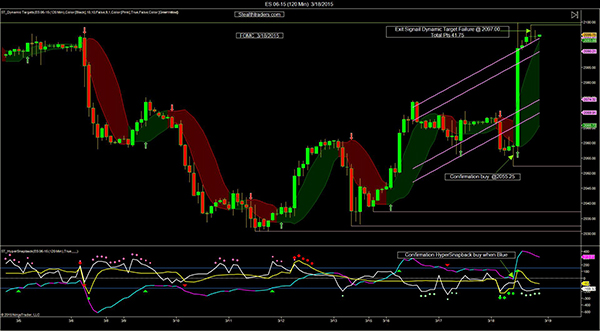 Needless to say, if you took advantage of it, ignoring the consensus of the crowd, you would have done quite well.
You might be asking, and rightly so, how did the HyperSnapback indicator know which way the FOMC statement was going to go? The answer: it didn't, and it didn't care. The crux of the statement (dropping of "patience") was leaked days earlier. The HyperSnapback indicator just uses a proprietary algorithm developed over 30 years to predict price movement based on technicals and price action.
So, makes sure your trading system tunes out the noise and is soundly based on what matters: technicals and price action. Because if you don't, you're likely to get trampled.